The Hunger Games was released nearly 10 years ago and led off one of the best selling trilogies in recent years, with the three books in the series having sold more than 65 million copies. It led to a popular series of films based on the books and happened to be one of the works that inspired my own writing.
The Hunger Games series also happens to feature a number of political themes, though they may not be obvious upon first glance.
After all, the prevailing storyline surrounding The Hunger Games series is 12 districts in the nation of Panem each having to send one boy and one girl, each 12 to 17 years old, as "tributes" to participate in a battle to the death, from which only one may survive. Katniss Everdeen, the chief protagonist of the series, only volunteers to be a tribute because she wants to protect her sister, whose name was drawn to be said tribute. Along the way, she finds herself becoming the unwilling symbol of a rebellion against the Capitol, all while caught in a love triangle with her longtime friend Gale Hawthorne and fellow tribute Peeta Mallark.
But at the heart of The Hunger Games is class warfare, illustrated in terms of how the citizens are divided into districts. The residents of the Capitol are the elite of the society, decadent to the point of wasting food, speak in a different accent than district residents and have a taste for exotic fashions. But even with the Hunger Games themselves being a bloody spectacle, most of the Capitol residents become emotionally invested in the tributes.
And the districts themselves each serve a specific industry or specialty. Districts 1, 2 and 4 are dubbed the Capitol's "lapdogs" by most of the other districts. District 1 creates luxury goods, District 2 specializes in masonry and military and District 4 focuses on fishing and seafood. In the cases of Districts 1 and 4, the nature of the goods that are produced makes those districts favored above others. And because District 2 is where the military force of Panem, the Peacekeepers, are trained, it also holds special favor with the Capitol. In modern terms, you would think of District 1 as the arts, District 2 as the troops and police and District 4 as higher-end food.
District 3, which specializes in electronics, isn't considered a favored district but is implied to be on the higher end of the economic scale, along with 1, 2 and 4. The rest of the districts are considered poor, with District 5 specializing in hydroelectric power, District 6 in transportation, District 7 in lumber, District 8 in textiles, District 9 in grain, District 10 in livestock, District 11 in fruits and vegetables and District 12 in coal. As you'll notice, the bulk of the districts on the lower end of the economic scale are associated with rural industries.
In fact, another way to look at District 12 -- where Katniss Everdeen lives -- is that it specializes in goods that, in today's world, are associated with Trump voters!
Seriously, the fact is that coal mining doesn't have a good reputation among much of the elite today. And the parallels between District 12 in Panem and coal-mining towns today are pretty striking. They are both at the lower end of the economic scale, they find themselves neglected by the elite and they grow suspicious of them. In District 12, Peacekeepers look the other way when it comes to black markets and hunting activities that are illegal.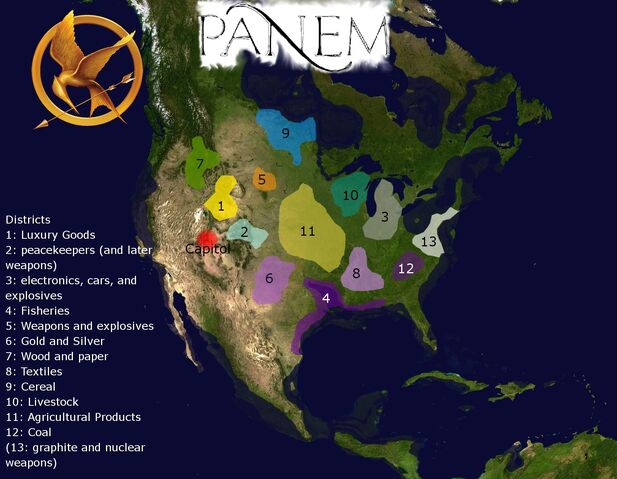 But there's more class divide than just between the Capitol and the districts themselves. Within the districts, those who hold the government positions or run the shops tend to be a little better off than those who do the laboring for the local industries. Within the Capitol itself, it's revealed that those who live on the fringes tend not to be as favored or well off as those who live toward the center. And there are a number of shops that are located far away from the main streets, where people who used to hold special favor from the Capitol are stuck working because they're no longer considered useful.
Class divide is all around throughout Panem, so it's no surprise that there is resentment building against President Cornelius Snow, who rules over Panem and lives in, by far, the largest and most luxurious of the mansions. The Hunger Games themselves are certainly not popular among most of the districts -- even with Districts 1, 2 and 4 training kids to become "Career tributes" -- but what makes Snow and the Capitol just as unpopular are the living conditions in most of the districts. The only district that is slow to come around to the eventual rebellion is District 2, namely because it houses the military operations and its residents tend to be fiercely loyal to the Capitol.
But author Suzanne Collins presents class divide in a means that people can relate to. Few, if any, people would approve of a spectacle in which people are forced to send children and teenagers into an arena to fight to the death. The totalitarian rule throughout Panem would make a lot of people suspicious. And while Katniss Everdeen makes it no secret she dislikes the way things are in Panem, her interests lie more in protecting her sister, rather than wanting to embrace a political cause. Most people are like this -- they would first strive to protect those that they are close to before engaging in political action.
Another political theme throughout the books is the usage of propaganda to advance a cause. This is first evident in how the Capitol plays up The Hunger Games as an event that has brought the people of Panem together and how tributes are coached up to present themselves as somebody the Capitol residents should root for. It is utilized by President Snow as a means of trying to keep the districts in line when tensions start to rise. And it is ultimately used by Alma Coin, president of the supposedly destroyed District 13, which has been secretly building its military reserves for a rebellion.
But what makes propaganda an effective political theme is that it doesn't always have to be political. Propaganda makes its way into how the tributes present themselves, in how they find ways to manipulate Capitol residents into rooting for them and a willingness to send gifts to the tributes when they are fighting in the arena. Compare this to how businesses advertise and promote products -- or even how an author promotes his or her books!
And alongside the political themes, there are themes that don't dive into the political realm. A big one is how people can find themselves developing relationships with others when they might not otherwise do so. Katniss Everdeen finds it hard to trust people, thanks in large part to her father dying while working in the coal mines and her mother becoming withdrawn after that. Katniss only finds comfort in her sister Primrose, though she later finds additional comfort in Gale. But there are a host of others who she is initially cold towards.
It's part of what keeps Katniss from being a likable character in every way at first. There are plenty of reasons for readers to empathize with her and, to a degree, sympathize with her. But some people may find her attitude rubbing them the wrong way. In the first book, after Peeta's father gives her some cookies, she throws them away after suspecting Peeta is doing nothing more than sucking up to District 12's tribute mentor, Haymitch Abernathy. That's not exactly the type of gesture you would think of when you want a hero to root for.
Over time, though, Katniss finds more people she connects with and, for those who she doesn't connect with at first, she learns to do so. This is how Katniss is transformed from a character people will empathize with at first, to sympathizing with as the books progress. Katniss is far from the perfect individual with no flaws whatsoever -- and, at times, may engage in actions people don't agree with. It's the type of protagonist that is much easier to relate to, rather than being a one-dimensional character who is said to always be right.
That brings us to the main antagonist, President Snow. He does hold a valid point about why he does what he does -- the nation before Panem was involved in a great war and he believes this structure must be kept in place to ensure the survival of the human race. But while the survival of the human race is a point people can empathize with, there is never a moment in which President Snow is a sympathetic character. His actions are, in many cases, impossible to defend. That is what keeps people rooting for Katniss to prevail.
The trilogy concludes with Panem taking on new leadership, though it remains to be seen how the new government will take shape and what it means for the citizens. It does provide a degree of hope, mostly for Katniss moving on to a stable relationship with Peeta and, eventually, having children -- something Katniss swore she would never do because of the Hunger Games.
But what The Hunger Games series doesn't do is provide easy answers to those political questions it raises. It only addresses the issue that certain methods will not be accepted -- namely that the Hunger Games are no more. The rest is left up for readers to decide where things will go and if Panem's leadership will show people a better path. It's best summarized in what Plutarch Heavensbee tells Katniss Everdeen after leadership matters in Panem are settled.

"Now we're in that sweet period where everyone agrees that our recent horrors should never be repeated. But collective thinking is usually short-lived. We're fickle, stupid beings with poor memories and a great gift for self-destruction. Although who knows? Maybe this will be it, Katniss."
That's a question people should always ask themselves after what's considered to be a terrible regime is removed from power -- are we going to remember those horrors and not repeat our mistakes? Or will humanity fall victim to its weaknesses again?